Trees and woodland cover 11,200 square miles (or 11.8 percent) of the total land area of the UK.  After millennia of this decreasing, there is now an international drive to increase tree and woodland coverage.  Tree planting initiatives play a large role in this.
Why are trees important?
With trees and woodland so important in capturing carbon from the atmosphere, improved coverage is known to have a big impact on the health of our planet – and also us. In fact, one single mature tree removes 48 pounds of carbon dioxide (CO2) from the atmosphere.  This is beneficial for two very important reasons.
Firstly, CO2 is a greenhouse gas, which is directly contributing to one of the biggest risks to our planet today; global warming. When these gases are released into the air due to activities such as cars burning fossil fuels and waste being sent to landfill sites, they cause the Earth's temperature and sea levels to rise. Consequently, we experience more droughts, wildfires, tsunamis and other devastating natural disasters.
Secondly, although humans are regularly exposed to low levels of CO2, too-high concentrations cause a number of unpleasant symptoms that make us feel unwell. These include increased fatigue, nausea, headaches and vertigo.
Replacing lost trees
At Apex Environmental, we know how important it is to protect the environment.  Sometimes we have to remove trees, usually because they're causing damage to surrounding buildings.  However, we always recommend that suitable specimens are planted to replace them.
Here are some of the large-scale tree planting initiatives in the UK that are helping to protect our Earth…
Plans for new Northern Forest
In January 2019, Prime Minister Teresa May announced plans to plant a new Northern Forest between Liverpool and Hull. The scheme is predicted to cost £500 million in total.  However, it is expected to bring great environmental benefits and generate £2 billion through increased tourism and job opportunities. By 2050, 50 million trees will be planted.  Covering 62,000 acres of woodland, the scheme will connect five Community Forests in the north of England. These are the South Yorkshire Community Forest, Manchester City of Trees, the Leeds White Rose Forest, Mersey Forest and HEYwoods.
The Big Tree Plant Funding Scheme in England
This national campaign was launched in 2010 with an aim of planting one million extra trees in the UK over a four-year period. Funded in part by Forestry Commission England, the scheme wanted to focus on adding greenery to urban areas that need it most.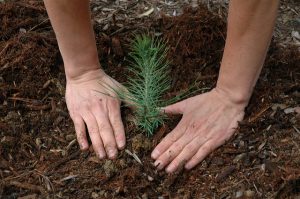 It supported 177 planting projects out of a total of 400 applications. Just one of their successful projects was completed by Trees for Cities, who pledged to plant around 40,000 trees throughout Gateshead, Worcester, Leicester and Milton Keynes. Proposed planting sites included parks, schools and other open spaces.
 For anyone that wants to fight deforestation in the UK, Carbon Footprint's tree planting scheme offers you the opportunity to donate funds for trees to be planted in a region of your choice, including Wales, Northern Ireland, Scotland, London and Thames, and the Midlands. It costs £12.90 (including VAT) to plant a tree, and it's your choice how many trees you fund the planting of. At the beginning of 2019, Carbon Footprint pledged to have planted trees in over 53 locations across the UK in the first 2 months of the year, with the majority of these planting sites being schools.
London mass tree planting weekend
In December 2018, the Mayor of London gave locals the chance to participate in an exciting mass tree planting weekend in the UK's capital city. Working with partners to fund 75,000 trees for local people, schools and community groups to plant over the weekend (which fell on the 1st – 2nd December), more than 30 volunteering events were held to add more greenery to parks, private gardens and underused green spaces. London's Mayor Sadiq Khan also offered an additional 5,000 trees for Londoners to plant in their own gardens, bringing the total of trees planted up to an impressive 80,000.