Are there trees on land that you wish to develop?  Whether you are a professional developer or a property owner wanting to improve your home or business, our BS5837 tree surveys and reports help you plan with confidence.  We can maximise development potential whilst ensuring you comply with planning regulations.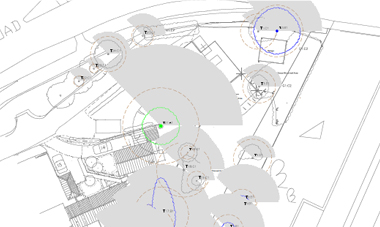 What is a BS5837 tree survey?
BS5837 is a British Standard.  It applies to all trees that could be affected during the design, demolition or construction phase of a development. The latest version of the standard was published in 2012, so you will often see it referred to as BS5387:2012.
A BS5837 tree survey is often referred to as a BS5837 tree or arboricultural report, but all these terms refer to the same process.
The tree survey comprises three stages.  Not all developments will require all three stages, so we will tailor our services to suit your needs.
Why do I need a tree survey?
Trees are important to both rural and urban environments for a variety of reasons.  Their benefits include:
visual amenity.
providing food and habitat for wildlife.
providing screening and shade and reducing glare.
intercepting snow and rainfall.
absorbing carbon dioxide and other pollutants from the atmosphere and releasing oxygen.  As a result, they help to combat climate change.
BS5387 recommendations aim to facilitate a harmonious and sustainable relationship between new or existing developments and the trees that surround them.
The standards must be complied with wherever trees are on, or near, a development. This is the case even if planning permission isn't required.
What does the process involve?
It's easiest to look at the BS5837 process in terms of its three stages and their components.  If you're not sure which stages you need for your project, just get in touch and we will be happy to advise.
Stage 1
The tree survey and Tree Constraints Plan and Report
We begin the tree survey by visiting the development site.  The main purpose of this is to identify the quality of trees on the site, and to measure how far their canopies and roots extend.
At the same time, we carry out a Tree Constraints Plan and Report.  This:
helps to inform where development can proceed without impacting on amenity trees.
identifies which trees should be retained and which could be removed if necessary.  As part of this we identify any statutory restrictions such as Tree Preservation Orders (TPOs) and Conservation Areas.  We also grade the quality of each tree.
Stage 2
Arboricultural Impact Assessment, heads and terms of any Arboricultural Method Statement, Arboricultural Impact Plan, draft Tree Protection Plan, and Tree Works Plan (if required)
Stage 2 is designed to help you maximise the potential of your development without impacting on the trees (which could risk a planning refusal). This involves:
providing advice about the impact on retained trees.
identifying any potential problems/conflicts that your local authority's planning department could take issue with.
maximising your chance of a successful planning application by offering solutions to any potential problems.
Stage 2 also involves drawing up a draft Tree Protection Plan.  This outlines where tree protection fencing should sit and where storage of materials should be located.  It also outlines where contractors' parking should be and where ground protection will be needed.
Sometimes we recommend undertaking work to any trees.  If this is the case, we will create a Tree Works Plan.
Stage 3
Detailed Arboricultural Method Statement (if required)
Once design proposals are finalised and approved by your local authority's planning department, it may be necessary to undertake a detailed Arboricultural Method Statement.  This advises how to ensure that retained trees are not damaged during construction.  Most planning applications will require one if trees are on or near to a site.
Why choose us?
Experienced in serving the needs of a wide range of clients, from large property developers to architects, surveyors and homeowners.

Clear process.  We'll send you a factsheet explaining the procedure so that you're not left wondering what happens next.

Fully insured, with Professional Indemnity Insurance to the value of £5 million.
Would you like to learn more about how we can help you?  Read the example in our portfolio of recent work of when we carried out a BS5837 report for a property developer in Birmingham.
Want to find out more about how we can help you with a BS5837 tree survey and report?  Get in touch with Apex Environmental today.