In August 2017 a property developer contacted us about a portion of land in the Northfield area of Birmingham.  The land had previously been owned by The Royal British Legion.  The developer had purchased it with a view to building seventeen residential properties with associated services, parking and outdoor space.
Because the site was home to a number of trees (29 in total) the developer was required to commission a tree survey in accordance with BS5837:2012 regulations.  We were therefore asked to inspect all the trees that were both within the plot and within influencing distance, including some on neighbouring land.
BS5837:2012 Tree Survey:
Project Details
BS5837:2012 survey: The site visit
We looked carefully at each tree, identifying factors such as their height, age and condition.  The majority were mature trees and were a mix of species, including Norway maple, Scots pine, sycamore and ash.  None had protected status, but they did include several Category A specimens.  This meant they were of prime condition and quality; essentially trees that are particularly good examples of their species.
Some of the trees on the land were grouped together in a linear formation, which constituted a significant feature of the site.
BS5837:2012 survey: Our assessment
Our client wanted to know how they could design the layout of the site to accommodate the existing trees.  As part of this, we produced a Tree Constraints Plan, which identified the extent of the roots and canopies.  This gave the client an indication of where they should or should not build, and after working closely with the client and an architect, we suggested they scale down their development.  As a result they reduced the number of properties from seventeen to twelve, and modified parts of the proposed layout.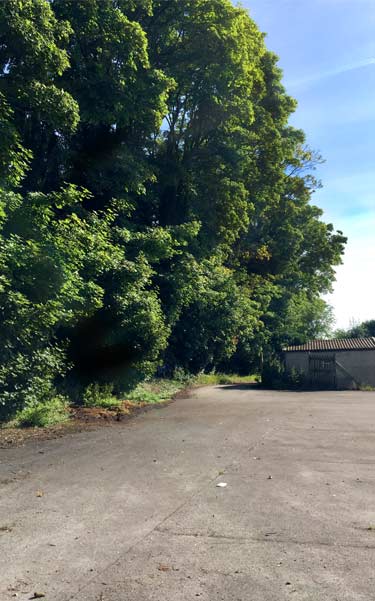 This line of trees was a prominent feature of the plot of land we were asked to survey.
BS5837:2012 survey: Drawing conclusions
Once the layout of the site was finalised, we produced the Arboricultural Impact Assessment. Based on the findings of the Constraints Plan, this detailed report looks at the potential impact of the development on the trees, and vice versa.  It's therefore a vital part of what has to be done under the BS5837:2012 regulations.
The information we produced for our client was key to their planning application.  A few months after submitting it to the relevant local authority for approval, they were delighted to learned that their application had been successful.
Contact Us For A Free Quote
Get in touch with Apex Environmental Limited today to find out how we can help you with your aboricultural requirements.