Protecting and planting trees is important for the environment; we all know that. They provide a home for wildlife and protect the Earth (and our human health) by absorbing harmful CO2 from the air. As a matter of fact, trees and their impact on climate change are becoming even more important in the UK as it has a new emissions target to emit "net zero" greenhouse gases by 2050.
This probably isn't the first time you've heard of our country having a 2050 emissions target, with the UK originally pledging to reduce greenhouse gases emissions by 80% by that year. This target was first set by MPs under the Climate Change Act in 2008. However, it was revised in 2019 after a report from The Committee on Climate Change (CCC) advised that if other countries followed suit, there would be a 50-50 chance of us preventing the Earth's temperature from rising by 1.5C by 2100.
Why is it so important that it stays below this temperature? According to a major report published by Intergovernmental Panel on Climate Change (IPCC) in October 2018, we have until 2030 for the Earth's temperatures to be kept to a maximum of 1.5C. The report warns that if the temperature were to rise by even just half a degree, natural disasters like floods and droughts would become far more frequent. According to WWF, it could also lead to the extinction of some species.
In the UK, emissions have steadily dropped over the past 6 years, with it being reported that they were 44% below the 1990 baseline for the UK in 2018. However, there's still a long way to go if we want to stop the Earth's temperature from rising further.
Can we reduce pollution by planting trees?
There are a number of places emissions are coming from, including homes, transport, farming and the general industrial sector. There are a number of things that can be done to reduce emissions, such as switching to renewable energy sources, producing less waste and reducing meat consumption. As part of the plan to reach the "net zero" emissions target by 2050, the government has also promised £50m to help reach a target of planting 10m trees in England's countryside.
At Apex Environmental, we know just how important trees are for the future of the environment. Just one mature tree (over 10 years old) removes 48 pounds of carbon dioxide (CO2) from the atmosphere per year, and on average, one acre of new forest can absorb around 2.5 tons of carbon annually.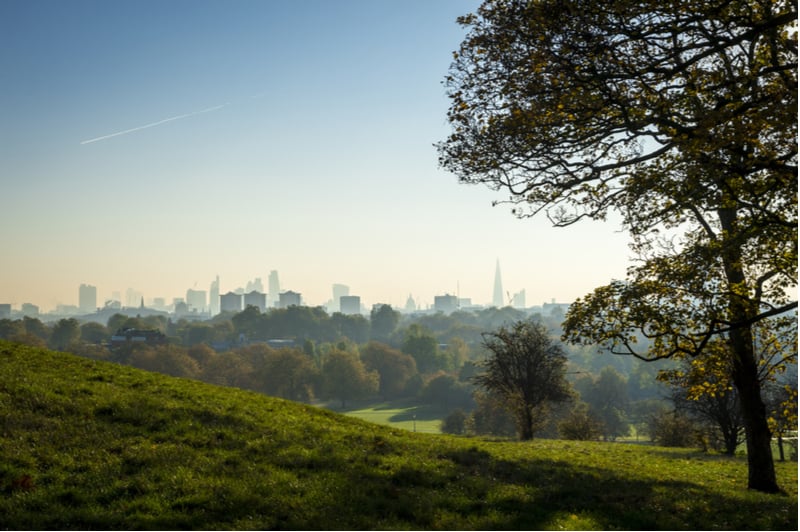 Reuben, an Arboricultural Consultant and our Managing Director, says: "We feel there's no doubt that having a clear and tangible commitment to tree planting initiatives will play a big role in the realisation of the government's pledge. Though we are glad to see that Greenpeace has also called for the UK to plant 700 million trees by 2030, as well as planting new trees, there also needs to be a pledge to better protect existing forests and woodlands."
Sadly, the UK is one of the least wooded countries in Europe. As the latest National Statistics by Forest Research reveal, only 10% of the total land area in England is woodland, while this is only 15% in Wales and 8% in Northern Ireland. More and more woodland is also disappearing in the UK each year due to farming, new housing and commercial development.
Now is definitely the time to start making a change, but how can you do this at home? One answer is tree planting initiatives. Julie, our Administration and Marketing Manager, says: "The government will need to raise awareness of the importance of trees, both to individual industries and members of the general public. Educating both on the role trees play and the importance of keeping existing woodland areas healthy will be a big part in encouraging people to take part in their own tree planting."
What you should know when planting trees
There are plenty of great tree planting initiatives in the UK to help the likes of businesses, schools and families get involved in protecting our planet. The Woodland Trust, Carbon Footprint and The National Forest make it simple to plant trees in your local community yourself or sponsor the planting of trees. They usually have details of tree planting schemes in a given area, and will be able to provide guidance on what to plant if you're doing it yourself.
According to our experts, some of the best trees to plant are English native species such as oak, beech, silver birch, walnut, horse chestnut and sweet chestnut. Most of these have large canopies, which will help to draw in more CO2.
It is especially important to plant trees in large towns and cities due to their higher pollution levels. In London, for example, air pollution is a serious issue, which led to the Ultra-Low Emissions Zone (ULEZ) being introduced in 2019 in a bid to combat this.
When planting trees in large cities like London, Reuben advises: "Cities represent the harshest growing conditions, so the chosen tree species need to be resilient. Currently, many of the towns and cities in the UK are planted with London planes. Although they help to absorb pollutants, the species is a clone and could be susceptible to air-borne diseases. Therefore, increasing the diversity of the trees planted in towns and cities will be paramount."
Want to do more? We'd also encourage individuals to lobby their local MP to highlight the importance of tree planting initiatives and to create more opportunities for people to get involved. After all, if we all put in the effort, then we'll have a better chance of protecting our planet for longer.